COLLABORATIONS
Our collaborations and partnerships help us serve even more children on both sides of the border. We have more than 40 community partnerships and affiliations with 20 universities.
Jornada
Jornada's Rehabilitation Clinics at the Hospital Infantil de las Californias (HIC) were started approximately 10 years ago, in partnership with HIC's rehabilitation department and volunteers from the United States and Tijuana. Physical and Occupational Therapists and Speech and Language Pathologists volunteer in these one day clinics three times each year. They are assisted by translators and students from these professions, from both sides of the border.
Therapists bring equipment for use by their specialties, such as wheelchairs, walkers, braces, and other medically necessary items. This equipment is provided to patients, free of charge. In addition, patients receive consultations about their disabilities, and home exercise programs to improve their functioning at home, school, and in the community. Patients travel from a radius of several hours from Tijuana. Therapists and other volunteers come from as far as Los Angeles and San Bernardino County. Our most recent Jornadas have been attended by over 50 volunteers, who see approximately 50 children in one day.
UCP Wheels for Humanity
UCP Wheels for Humanity is a nonprofit organization devoted to increasing self-sufficiency, mobility and education to children, teens and adults with disabilities throughout the world. They provide those with disabilities appropriately fitted wheelchairs, while also ensuring partner organizations have the resources necessary to sustain support for those with disabilities.
For the past five years, UCP Wheels for Humanity and Hospital Infantil have teamed up to provide wheelchairs for children, teens and adults in Tijuana. Once a year, UCP Wheels for Humanity volunteers descend on Hospital Infantil and help hundreds of individuals with disabilities become mobile. This year, volunteers helped over 130 people into new wheelchairs.
ConnectMed International
Beginning in 2007, ConnectMed International (CMI) and Hospital Infantil have worked together to provide critical surgeries for children in need as well as interactive surgical demonstrations for medical students. Connected by a camera, microphone, and speakers on either side of the international border, live interactive videoconferencing is used during CMI's surgical "jornadas" (working days) approximately every 2-3 months. CMI volunteers join the Hospital Infantil surgical team to perform multiple surgical cases at HIC's campus in Tijuana. During these jornadas, CMI uses its telemedicine network to create live, interactive Telemedicine and International Health Conferences that are transmitted to the UCSD Telemedicine Learning Center.
These conferences benefit participants on both sides of the border. Patients at the Hospital Infantil can be evaluated by a full team of doctors and specialists either in-person from Tijuana or via videoconference from San Diego. Students and doctors, both at UCSD and at the Hospital Infantil, are able to interact, evaluate patients, observe complex procedures and learn from expert visiting professors. Participants have the unique opportunity to learn about telemedicine, cleft lip and palate/craniofacial surgery, and humanitarian global health initiatives. Patients are able to benefit from specialized, team care that addresses their surgical issues and their post-surgical needs.
BEFORE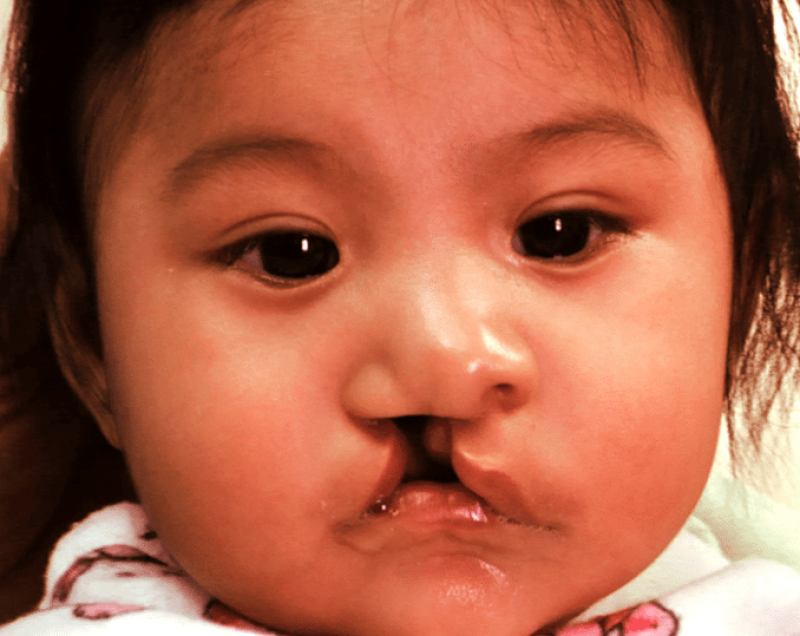 AFTER